Leave Guard & Gutter Screens Ottawa
Our leaf guard gutter systems will protect your eavestrough from clogging from any outside elements. We use and install the best gutter guards on the market.
Does your eavestrough clog with leaves?
Maize offer 2 types of leaf guard screens.

The alu-rex M5200 is installed while installing your new eavestrough.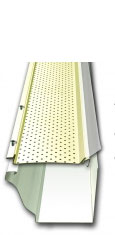 The alu-rex M5300 is installed on your existing eavestrough
Why install leaf guard?
avoid debris while letting water flow
eliminate the seasonal chore of cleaning your eavestrough
the M5200 design makes your eavestrough stronger
We recommend you call us or any professional to install eavestrough gutter guards to make sure they are secure and installed properly. Call us today for a free estimate on a leaf guard system installation!